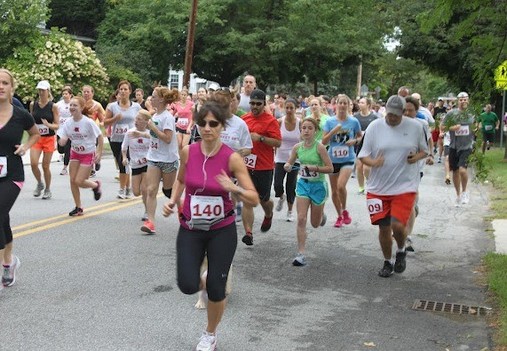 ABOUT OUR RACE
The Fall Street Five-K is part of the larger Reading Fall Street Faire, a non-profit community event. As part of the Faire, the Fall Street Five-K is a wholesome, community-based road race. The race and the Faire are functions of the Town of Reading's Downtown Improvement and Events Trust, which supports ongoing funding for the Faire and economic development projects in the Town.
WHERE & WHEN:
THE RACE STARTS AT 8:30 AM ON SUNDAY, SEPTEMBER 10, 2017. THERE WILL BE A PRE-RACE WARM UP AT 8:15 A.M AND THE RACE WILL BEGIN AT 8:30 A.M. THE RACE BEGINS AND ENDS AT WASHINGTON PARK. THERE WILL BE AN AWARDS CEREMONY AT WASHINGTON PARK IMMEDIATELY AFTER THE RACE. AT 12:00 PM, THE FALL STREET FAIRE STARTS IN THE DOWNTOWN AREA. THE FAIRE ENDS AT 5:00 PM.
REGISTRATION & BIB PICKUP
BEFORE RACE DAY: BIB PICKUP AND SHIRTS WILL BE HELD ON FRIDAY, SEPTEMBER 8TH AND SATURDAY, SEPTEMBER 9TH AT TREAD ON THE MILL, 13 HIGH STREET.
Friday Night Pick up from 5:00 – 7:00 PM
Saturday Morning Pick up from 9:30 – 11:30 AM
Sunday, September 10, 2017
(Race registration -opening soon)
ON RACE DAY: YOU CAN REGISTER IN PERSON VIA CASH OR CHECK AND PICKUP YOUR BIB AT WASHINGTON PARK FROM 8:00 AM TO 9:30 AM.
Parking & Directions
Take Exit 38B from I-95 and head North on Route 28. Proceed for about 1.5 miles. Take a left onto Washington Street at McDonald's. Stay to the left and proceed over the train tracks on Washington Street. Park in the MBTA lots, the RAC, or any surrounding side streets. Event staff and signage will be present to guide you if you are unfamiliar with the area. Please do not park in the Parker Middle School Parking lot as there is a separate event taking place there.
GPS Address for Washington Park
100 Washington Street, Reading, MA 01867
Thank You to Our Sponsors And the Runners Who Keep On Runnin'!